Harvest Public Media is a reporting collaboration focused on issues of food, fuel and field. Based at KCUR in Kansas City, Harvest covers these agriculture-related topics through an expanding network of reporters and partner stations throughout the Midwest.Most Harvest Public Media stories begin with radio- regular reports are aired on member stations in the Midwest. But Harvest also explores issues through online analyses, television documentaries and features, podcasts, photography, video, blogs and social networking. They are committed to the highest journalistic standards. Click here to read their ethics standards.Harvest Public Media was launched in 2010 with the support of a grant from the Corporation for Public Broadcasting. Today, the collaboration is supported by CPB, the partner stations, and contributions from underwriters and individuals.Tri States Public Radio is an associate partner of Harvest Public Media. You can play an important role in helping Harvest Public Media and Tri States Public Radio improve our coverage of food, field and fuel issues by joining the Harvest Network. Learn more here.
Farm Families Follow Drought with Record Harvest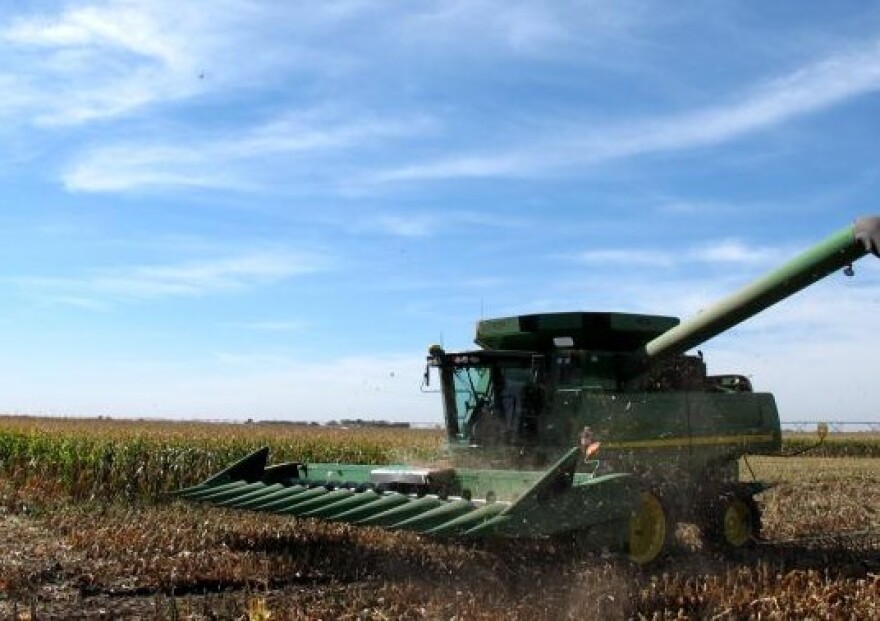 Nancy Friesen sat nervously at the controls of a giant John Deere combine that made the corn stalks look like match sticks.
It was her second day in the driver's seat of the giant machine and she normally works in the garden, not the field. But during harvest time, everyone in the family pitches in.
It looked like an ideal growing season and then a flamethrower was turned on the Corn Belt
One year after the worst drought in decades, farm families all over the Midwest are preparing to bring in a record-breaking corn crop. While there's some uncertainty in the air thanks to falling corn prices, this is a time of year when farm families focus on the task at hand.
The Friesens have 1,100 acres of corn to harvest around Henderson, Neb. As Nancy Friesen mowed down rows of corn, she commented on how different things looked from the previous year.
"There was no green corn," she said. "Everything was brown."
Harvest 2012 came during the worst drought since the 1950s. While irrigation saved the Friesen's corn crop, not everyone was so fortunate.
"I felt so bad for the people in other parts of the country that had no irrigation and had to just watch their crops burn up," she said.
University of Illinois ag economist Scott Irwin said last year actually had the potential to be a bumper crop before the drought took over.
"It looked like an ideal growing season and then a flamethrower was turned on the Corn Belt," Irwin said.
The drought has held on in some parts of the Midwest, but Jim Miller is finding relief in northeastern Nebraska, one of the hardest hit areas in 2012. Miller farms soybeans and corn near the small town of Belden, Neb., where he said harvest is back to normal.
"The difference is huge," Miller said. "On the corn last year, we had corn that was basically zeroed out. There wasn't any bushels out there to harvest."
This year, Miller's yields are average, around 160 bushels per acre, and that appears to be the trend in other states like Iowa and Illinois. Yields are good, not great.
But even average yields could be enough to push this harvest into the record books since farmers planted so much corn this spring – 97 million acres nationwide. The U.S. Department of Agriculture estimates the result could be a crop of nearly 14 billion bushels.
A record crop, though, means the end of record prices. In fact, corn prices are down to around a 3-year low.
As Curt Friesen brought a load of corn in from the field and dumped it from his semi, he knew it wouldn't be worth nearly what it was last year. Friesen said he expected booming prices would begin to fade from highs of over $8 per bushel in some places.
"Ever since spring when they told us we had planted 97 million acres, I kind of had an inkling we'd see corn with a 3 in front of it instead of a 5 or a 6," Friesen said.
Young farmers like Jason Lewis may have the most to lose from this year's harvest. Lewis is Curt Friesen's 35-year old son-in-law who just joined the family farm full-time this fall.
Last year he was in a college classroom in California – as a professor, not a student. The timing could have been better, Lewis admits, if he wanted to get in on high corn prices.
"If I was going to do that, I should have come back 3 or 4 years ago when corn prices were really up," said the Ph.D. from Kearney, Neb. "But it seems like every time there's been good times they're followed by harder times. So, you still have to work for it."
Lewis pulled an empty trailer into the field for a refill. While he drove he had earbuds on so he could listen to podcasts while he waited, but when the weather is good, he said, there's not much down time.
"The goal is the combine keeps going," Lewis said. "If the combine can keep going you're doing a pretty good job."
After a break in the action, that was Nancy Friesen's cue to start back up. She plunged the combine into the standing corn. The Friesens will be working another month or so to bring in their harvest.
"It is a good feeling when the corn is in the bin and we don't have to worry about it anymore," Nancy Friesen said. "So many weird weather things can happen."
Weird weather like last year's drought. Now, one year later, the Friesens and other farm families are glad to see more corn, even if it adds up to less profit.